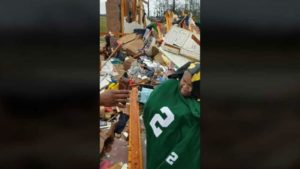 Victims of recent tornadoes strike across Lee County in Alabama, United States (US), Earnestine Reese and John Jones have expressed gratitude to God for surviving the windstorm that killed 23 persons.
Reese, 72 years, was captured on camera sitting by the ruins of her property destroyed by the tornado and saying 'thank God' for sparing her life, CBN reports.
While Jones, who has lived in Beauregard, Alabama most of his life said, "I'm still thanking God I'm among the living."
Reese's grandson, Kingston Frazier told the media that when he chatted with his grandmother and she was alright that meant the world to him, adding that she kept saying, "I thank the Lord. You tell God, 'Thank you, God.' You hear me? You hear me? Tell God thank you. Tell God thank you."
Frazier said, "It just didn't seem real seeing the house where I grew up had gone. At first I couldn't believe it."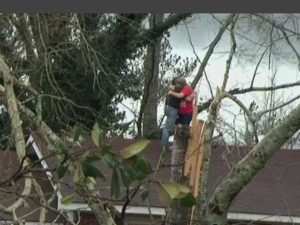 He expressed that it "really hurt seeing all those memories just gone," but stated that his spirit was lifted when he got in touch with his brave grandmother who survived the effect of the tornado.
Frazier explained that the whole incident was nothing short of a miracle and it "meant the world to me," considering, "the fact that my grandmother was stuck under the house but made it out with nothing but a broken hip."
"The only thing she told me was to thank God and that's what I did. I'm just thankful she made it out." He continued.
Kingston also revealed that his grandmother is currently being treated in hospital and, "The rest of my family is fine as well just suffered minor scrapes and bruises."
Lee County, Alabama resident Sharon Poole said, "I was sitting there praying, asking the Lord to protect everybody around us."
International Media have reported on Monday that deadly winter storm which raced across the United States pounding the northeast produced devastating tornadoes in the south.
US Authorities believe one tornado in Alabama killed at least 23 people and more than a dozen tornadoes struck parts of Alabama and Georgia, destroying buildings, cars, leaving thousands without power, leveling trees, and that death toll is expected to rise.
Alabama authorities have said that the powerful EF4 tornado, with wind speeds of 170 miles per hour, tore down a country road leaving a path of damage a half-mile wide.
In another development, the US president, Donald Trump announced in a tweet on Monday morning that he had directed FEMA to "give the A Plus treatment" to Alabama as it begins to rebuild after this devastating event.
FEMA has been told directly by me to give the A Plus treatment to the Great State of Alabama and the wonderful people who have been so devastated by the Tornadoes. @GovernorKayIvey, one of the best in our Country, has been so informed. She is working closely with FEMA (and me!).

— Donald J. Trump (@realDonaldTrump) March 4, 2019