Controversial pro-Creationism sign by Rapides Parish School Board candidate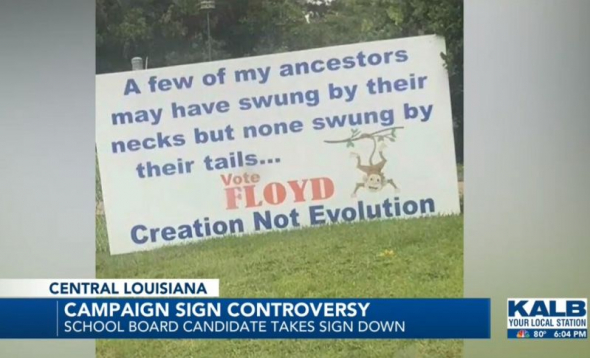 In September, the Rapides Parish School Board had open seats available. Candidates for the Louisiana school system are campaigning hardily for the role. Forty-eight year old Jamie Floyd is running against Gerald Crooks for District C. Crooks is the board's current vice president and was elected in 2014. But Floyd feels he is well qualified and looks to upset Crooks in the election. Mark Dryden, 52, is also running for the seat.
Floyd is a Buckeye High School graduate with three grown daughters who all attended the school as well. His grandfather, James Paul, was the very first school board member elected by District C.
Floyd has been a small business owner for 16 years and is currently an assistant manager at Sam's Club. In addition, his community involvement includes:
Substitute teacher at Buckeye High School
Member of Rapides Parish Council on Aging board
Member of the Rapides Parish Republican Executive Committee
Assistant pastor at Centerpoint Pentecostal Church in Deville
Rapides Parish police juror in District C
Floyd is a Christian who stands behind his faith both in and out of office. While in his role as juror, he put forth a controversial motion to publicly display the Ten Commandments in the Rapides Parish Courthouse.
It is Floyd's outspoken beliefs that have put him in the spotlight again. His campaign for the open seat on the Rapides Parish School Board included a sign which read:
"A few of my ancestors may have swung by their necks but none swung by their tails… Vote Floyd. Creation not evolution."
The sign featured a drawing of a monkey hanging by its tail from a tree and resulted in controversy not only within Alexandria, where it was located, but across the country. The NBC News affiliate KALB reported that numerous individuals called in about the sign, which Floyd has since removed.
Local residents called the sign "very inappropriate" and even "racist," but some members of the community supported Floyd.
Floyd argued that the sign wasn't meant to be racist, but was about the idea that humans evolved from apes.
"It had nothing to do with race at all," Floyd said, according to Alexandria Town Talk. "That wasn't meant to be the way it was taken." He added that "had I known it would offend people, I never would have put that sign up."
Although Floyd apologized if he caused offense with the sign, he said that he wasn't sorry for his belief in creation rather than evolution.
The school board election will run on November 8th to determine which candidate is elected for the open seat on the Rapides Parish School Board.
By Laurie Esposito Harley