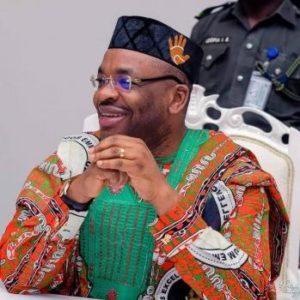 Akwa Ibom State Commissioner for Works, Ephraim Inyangeyen, has described the victory of Governor of Akwa Ibom, Udom Emmanuel, as an act of God.
Reacting to the outcome of the March 9 governorship election, which Emmanuel won with a wide margin of votes, Inyangeyen said that he was not surprised about the outcome because "Governor Emmanuel as a believer entrusted his second term project into the hands of God alone."
Inyangeyen thanked the people for their constant support for the governor, who he said, had served selflessly with integrity, patriotic zeal and the fear of God.
He added that in spite of the boasts by the opposition, who also threatened war, the people refused to be frightened and voted to ensure that the continuity and completion agenda of Governor Emmanuel remained on course.
He expressed his pleasure towards the conduct of the elections by the Independent National Electoral Commission (INEC), stressing that even though some desperate politicians tried to truncate the process, the commission lived above board and the people were determined to ensure that their votes count.