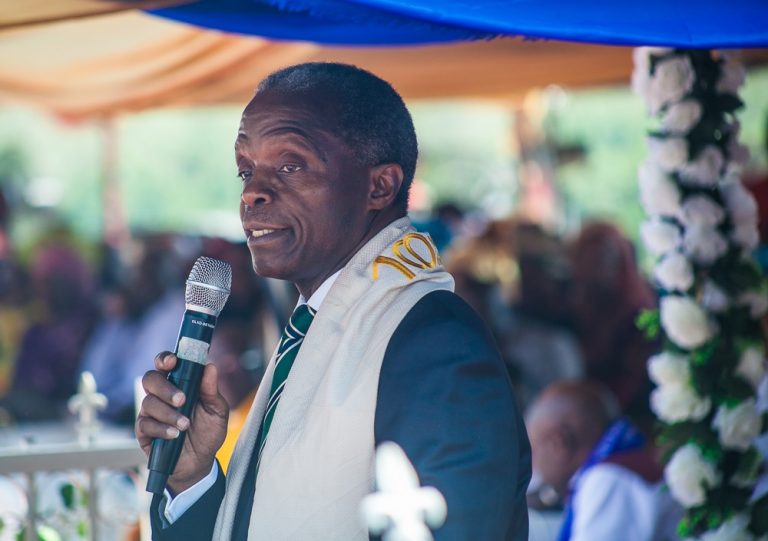 "Politicians, Not Answers to Country's Problem" – Osinbajo
By Oluwaseyi Jeje
Nigeria's Vice President, Professor Yemi Osinbajo has said that politicians do not have the answers to the country's problems.
The nation's number two citizen made this known over the weekend while giving a speech during the centenary anniversary celebration of the Christ Apostolic Church Worldwide, Ikeji Arakeji, Osun State.
Professor Osinbajo, while elaborating on the current dilemma of the country, stated that politicians do not have the answers to the catastrophe in Nigeria because they are not mandated by God to provide them.
Osinbajo said, "It is the church of the Lord Jesus Christ that has the answers to the transformation of the nations. It is the church that God has given the power and responsibility to transform nations. In other words, all of creations in this country; all that is wrong in our country is waiting for the revealing of the sons of God."
Referencing 1 Corinthians 1:12-13, where Osinbajo pointed out that denominations did not die for Christians except Jesus, he listed the responsibilities of this generation of Nigerian Christians, while tasking them to be united regardless of their denominations.
He stated, "First responsibility of our generation is to be united, the church of Jesus Christ must stand together regardless of denomination. We cannot continue as some did in early days of the church.
"We must also ask ourselves, did our denomination die for us? It is Christ that died for us, not our denominations. Let us therefore march forward in unity to preach the unblemished Word of God to deliver millions waiting for salvation, regardless of our denominations, knowing that Christ is in all of us," Osinbajo added.
The professor, who is also a pastor admonished the current generation to accurately document the great works that God has done through his apostles in Nigeria.
Narrating his experience, "I am a professor of the law of evidence. My entire adult life, I researched, published and argued about the primacy and validity of empirical proof. In other words, it is only what you can prove by logic and by evidence that is to be believed.
"For many years, I taught in schools, I taught in Universities here and abroad, establishing the point that it is only what you can see, only what you can touch, only what you can feel that is to be believed but the Lord God almighty delivered me and opened my eyes to the evidence of things that are not seen as a demonstration of His power and almightiness.
"This is why the testimonies of the great works of men and women of the CAC, and elsewhere must be properly documented and shared," he further stated.
Picture Source- The News Nigeria